Chris Cosma (CO-FOUNDER)
Hey you! Nice that you're here!
For us it's all about plastic-free and sustainable cosmetics that are not only good for your skin, but also for our environment. We know how important it is to focus on quality and sustainability, which is why we are thrilled to be able to introduce our products to you. But wait, why should you trust us? Very easy:
We offer you a 100% satisfaction guarantee .
We are a Trusted Shops registered company. Your purchase is secured by an external, independent body.
We can already count over 50,000 satisfied customers , which fills us with great pride.
Here are some testimonials from our community who love our products.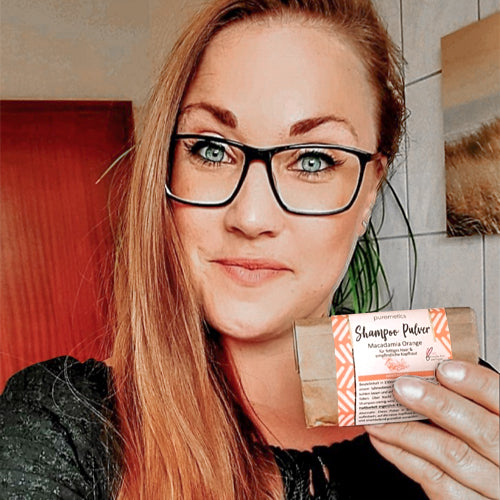 Isabel K
Absolutely thrilled!
Since I started using puremetics shampoo powder, my hair has been smoother, brighter and more beautiful than ever. The great and fresh scent and the ingredients immediately impressed me and offer great care for hair and scalp.
Kathy W
Fresh and well-groomed
Rose water can do what it promises. I like to use it in the evening to cleanse my face and feel really fresh and well-groomed afterwards.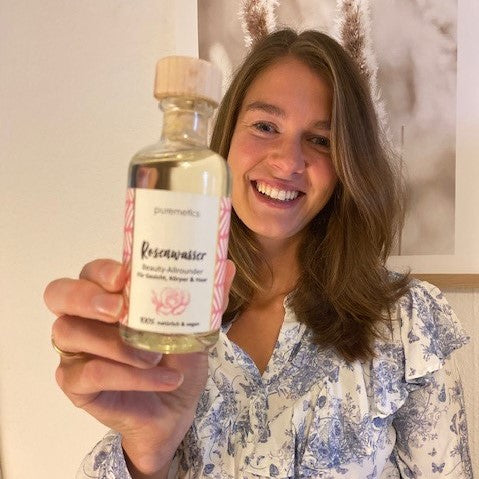 Dieter A
Simply great! Thumbs up!
The idea of ​​shower gel in this form not only calms me down
conscience, it is one of the best care products I have ever had. Absolute recommendation! I always think it's great when young people have such great ideas. Keep it up. I will definitely support you :)
Charlotte & Grandma Monica
Not just for old skin
As a grandma, I love spending time with my granddaughter. What is now an integral part of our ritual is the hyaluronic mask. It's not only great for old skin, but also for young skin. It alleviates teenage acne and we always have a great time together.
Nina K
Really recommended for dark hair
This is the first dry shampoo for dark hair that doesn't leave a veil and still nourishes/works. Am thrilled.
Paula M
Super soft skin
The Wildrose facial care soap impresses as soon as you unpack it because it smells so incredibly great. I'm still using the tester from the tester box, even though I've already ordered a new soap, but that's only because it not only smells good and is so effective, but is also really great for the skin.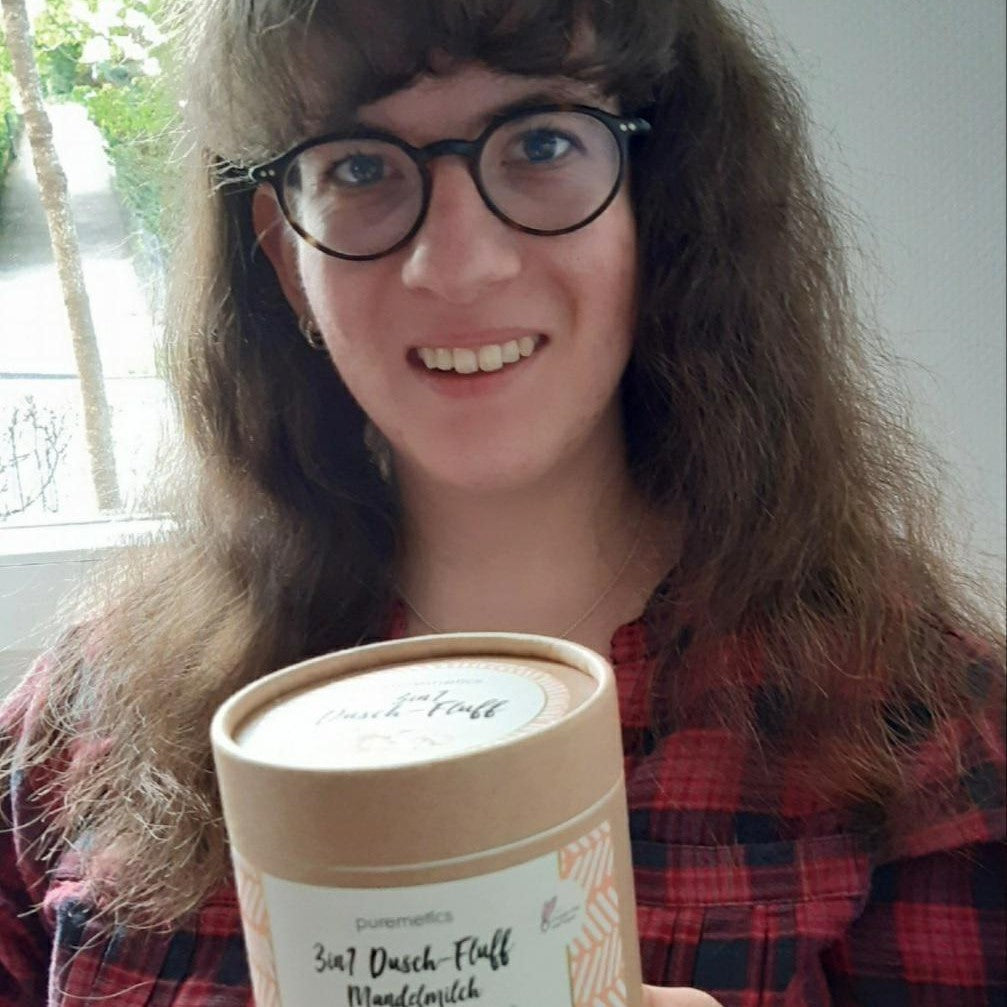 Judith K.
Like vacation in Spain
For me, showering has become a special, sustainable and fragrant experience. Showering with the fluff is like a vacation and dreaming at the same time. I feel like I'm standing in an almond orchard in Spain in the sunshine and smelling the scent of sweet almonds. The fluff is gentle, rough, soft, sensual, sweet and foamy creamy all in one. It nourishes the skin and gives it a feeling of well-being.
Robin TJ
Great smell
I was convinced by the plastic-free packaging, the pleasant application and above all the great smell. The best thing is that my skin feels a lot softer too :)
Further experiences via Trustedshops
★★★★★

The order to the other end of Germany 😁 arrived super quickly. As always, lovingly packed and I'm looking forward to using the shower fluffs.

Fast and reliable as always
★★★★★

I was totally impressed by the shower fluff and the facial tonic - it was a real coincidence purchase but both will definitely end up on my permanent purchase list.

Fast delivery - great products
★★★★★

puremetics products are simply wonderful and natural. What I particularly like are the projects that you can support with every order.

Just wonderful!
★★★★★

I was skeptical about whether it would really feel like that. But my skepticism quickly disappeared. The consistency is second to none.
It is very supple and feels like velvet.

Fell in Love
★★★★★

Great products and fast shipping! I am completely satisfied. The scent could be a little more intense on the skin, but the product is primarily intended to care for the skin and it does that excellently :)

Great products and fast shipping!
★★★★★

always happy, products TOP quality, what is promised is kept, great creative team, plastic-free, sustainability perfect in packaging and consumption, great promotions, the team constantly pursues its mission with a lot of commitment

Great, creative team
★★★★★

I love the smooth, smooth consistency of the peeling and I find it extremely pleasant, especially in summer. Firstly, because of the light and fruity scent and the fact that you don't need any body lotion afterwards. Since this is included in the peeling.

Love the scrubs
★★★★★

I have various allergies and my skin often reacts sensitively to products that "actually work". The Puremetics products first impressed me with their composition and also with their plastic-free packaging.

Wow, great products
Would you also like to share your experience with us?
Then please contact us. We look forward to your message.